Via Scott Harrison at Nashville Business Journal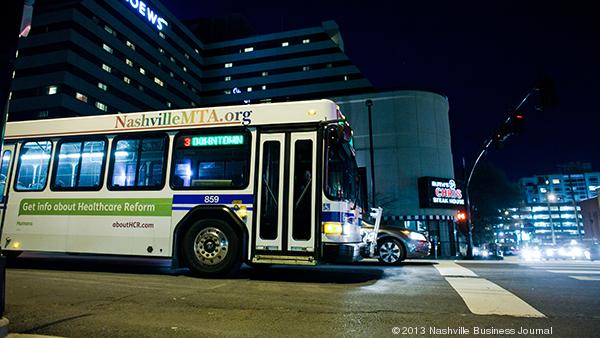 You can turn one page in transit officials' yearlong process to develop a regional mass transit system.
Since April, Nashville's Metropolitan Transit Authority and the Regional Transportation Authority of Middle Tennessee have been soliciting public input on the guiding principles for a strategic transit plan (a process called nMotion 2015).
MTA and RTA asked people, both in online surveys and in public meetings, what values planners should use to guide future transit projects. It's an attempt to avoid the type of criticism that arose from the now-abandoned Amp bus route on West End Avenue, which opponents argued was sprung on residents without public buy-in (among other objections).
More than 3,500 Nashville-area residents responded to MTA's outreach.
The top values, per the thousands of Nashvillians who've responded to date: They want a transit system that is convenient, dependable, frequent and safe. Residents were asked to define these values as well.
According to a news release from MTA, that means more service to more locations; service that arrives every 15 minutes on both major and minor routes; and transit stops that are easily accessed by foot and in well-lit areas.
MTA found that residents who don't rely on transit cite convenience as their top value. Forty-five percent of the respondents told MTA they never use public transportation, while 30 percent said they use the system less than once per week. Of these two groups, 39 percent said convenience was their top priority.
Meanwhile, 25 percent of the respondents told MTA they ride transit regularly. These transit users cited dependability most often (33 percent), followed by convenience (22 percent).
The next step in MTA's master planning process is a "State of the System" report being worked on by consultants Nelson/Nygaard. According to the release, this report will include a market analysis and review of peer cities. It is expected to come out next week. MTA and RTA will use that research and the public input to "create a broad vision for our region," MTA CEO Stephen Bland said in a news release. That is expected to be released by the end of July.
"Once we have a vision, we can begin to examine and collect feedback on specific strategies and future scenarios to improve our transit system," Bland said in the release.
Bland has previously said MTA wants at least 10,000 Nashvillians to get involved with the planning process. In April, he said an alternatives analysis on potential projects and corridors would come out some time this fall. The goal after that is to get the public to vet possible projects and "entertain alternatives" in the spring of 2016.
Last week, we took a look at the change in Nashville traffic during the past decade. Here's more on where things stand today, as officials study solutions moving forward.