Via Scott Harrison at Nashville Business Journal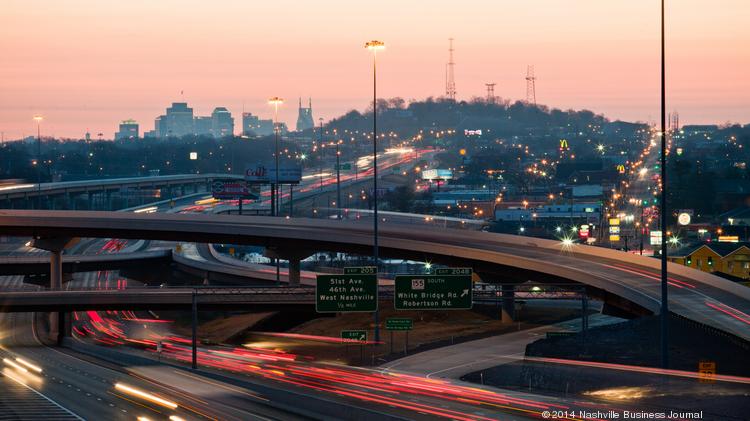 State transportation officials find themselves in a bind.
The sheer numbers of vehicles on Nashville's interstate system has surged in the past decade as more and more residents flock to Middle Tennessee. We recently reported that the worst spike in volume is occurring on Interstate 24 down into Rutherford County, but the increases are by no means confined to just one interstate.
Historically, widening the highways was the default to addressing more traffic volume. That's no longer palatable, Toks Omishakin, assistant commissioner for the Tennessee Department of Transportation and chief of environment and planning, told me.
"We've reached the point where we know we can't build ourselves out of our traffic woes," Omishakin said. "The old solution of wider roads isn't enough to get us beyond the challenges we have."
"Bigger roads just attract more cars and more volume," he added. "Before you know it, you're back to square one again. If we say, 'Let's widen every roadway and bypass,' we'll end up in the same place [we are today], especially with the growth rates that are projected."
Widening projects are also expensive, especially at a time when federal funding uncertainty has created a backlog of billions in existing projects in TDOT's pipeline.
Just take the I-24 corridor from Murfreesboro to Nashville, which TDOT has studied in depth.
"It's the most congested corridor in the state of Tennessee, especially between Sam Ridley Parkway in Smyrna and Harding Place," Omishakin said.
"When I look back at some of the [proposed] projects that were identified … to do widening projects throughout that corridor [from Murfreesboro to Nashville] would have cost at least $600 million dollars."
"That's a very conservative estimate," he added. "And those are just widening projects. That's not talking about improving the ramps or bridges along the way."
Such scenarios are causing TDOT to look for solutions from a "different tool kit," Omishakin said. One alternative on I-24, a monorail proposed by a state senator from Murfreesboro, has been examined by TDOT.
"From a construction standpoint, it's something that's been deemed feasible," he said. "But from a cost standpoint, it probably not plausible."
Omishakin said costs for a Murfreesboro-to-Nashville monorail would be $1.7 billion in current dollars, or more than $2 billion in 2020 dollars. He said there are much more cost-effective solutions, such as rapid bus service. But even those will come with a hefty price tag.
"Something like bus rapid-transit within the corridor – a rapid-transit system either on Murfreesboro Road or on I-24 – would be in the hundreds of millions of dollars," he said. Compared to a monorail, "it would be something far more feasible from a construction and financial standpoint."
So a monorail may be a pipe dream. Another idea thrown about has TDOT working with CSX to allow passenger trains on its rail lines. Omishakin said conversations with "high level" executives at the railroad company haven't bore fruit.
"Mixing passenger traffic with freight traffic was not feasible to them," he said, characterizing prior talks with CSX. "It's not something they were willing to consider."
Despite the way past discussions with CSX have gone, Omishakin said TDOT will continue to knock on that door.
"I don't think we can eliminate that as a possibility right now. We need to [pursue] a multi-modal and multi-pronged [system]," he said. "If we say, 'Nope, that will never happened,' we'll limit ourselves. The more options, choices and connections we have for people and goods to get about our state, the most successful a transportation system we will have."
Perhaps more feasible ideas can be adopted from states like Minnesota and Washington, which Omishakin said "have a long history of being out in front" on transportation solutions.
One such idea: A commuter bus only shoulder when the interstates get congested. Omishakin says such a system could be used when Memphis or Nashville's interstates get heavily congested during rush hour.
"Traffic or congestion can be looked at in two different ways. It can suck the life out of an economy when you're spending work hours in traffic. There are all kinds of things that come out of that with the environment and health," Omishakin said. "But at the same time, when communities have congestion like this, it means you're growing. When you don't have traffic, that's a sign of a slow decline in a region. We want continued growth. It just has to be smart growth."