Via Scott Harrison at Nashville Business Journal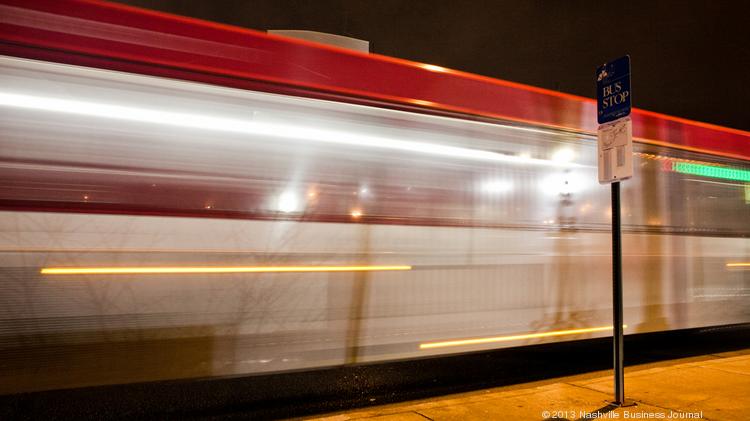 We're way behind Austin when it comes to transit
A Nashville Metro Transit Authority bus travels along West End Avenue.
Nashville's transit system is lagging behind peer cities like Austin and Charlotte.
It's also no better than smaller cities like Richmond, Va.
That's the blunt assessment from a new report by the Nashville Metropolitan Transit Authority, part of the transit agency's new long-term strategic planning process.
A rise in congestion, and traffic volume, only means higher costs for residents. As we recently reported, traffic volume on the highways has spiked in Middle Tennessee during the last 10 years and commuters spend more than 26 minutes on average getting to work in the morning.
"The expansion of Nashville MTA service has not kept pace with growth," the report states."Nashville is a medium-sized city that is growing to become a large city, but with a transit system designed to serve a small city."
Nashville's recent economic surge and population boom have brought with them more cars. The issue of transportation boils down to competition for workers and businesses, especially as Nashville's sales pitch for companies is quality of life and a lower cost of living than other cities.
The latter is being severely tested by eye-popping jumps in rents; but transportation makes up a significant cost for residents. Without transportation solutions, Nashville could get passed over in the future by those very companies that have recently relocated headquarters and divisions in the area, or the young professionals the city prides itself on luring in such large quantities.
The threat is whether Nashville's current dynamism will outpace the city's (and region's) existing transit and roadway system, choking future growth down the road.
Nashville very well may be nearing that point.
According to MTA's report, Nashville's growth in employment and population has outstripped the agency's service network. That will continue with future growth projections by the MPO that put the region at the size of Denver by 2035 and Seattle by 2040.
MTA is playing catch-up. According to the report, the agency needs to expand service to meet the growth that has already occurred, but then "expand at a faster pace to keep up with projected growth."
The report acknowledges that existing "service is not attractive to most residents," noting service isn't frequent enough on many routes to offer convenient use. Only nine of the 46 routes provided by MTA provide service every 15 minutes or less (MTA found riders consider service every 10 minutes or less to be very convenient).
Hours of service is also a point highlighted: "MTA's services operate for more limited hours than most major metropolitan areas and generally can't accommodate alternative schedules and shifts. For many who work in … industries that require night shifts, these limited service hours create real obstacles for accessing jobs in certain areas."
And then there's the generally structure of MTA's service: Nearly all the transit route funnel in and out of Music City Central station in downtown Nashville. This poses challenges for those who aren't traveling from Hermitage to downtown, but rather Hermitage to Antioch.
How does Nashville's transit network stack up to peer cities?
Nashville provides 34 percent of the transit service as Austin, a city slightly larger than Music City. (That's in terms of vehicle hours of service). Nashville has 46 percent of the transit service of Charlotte. Ridership per capita also lags behind Austin.
But even when looking at cities that are smaller than Nashville (not necessarily metro regions; think just Davidson County), the MTA report finds its amount of service is "limited" in nature.
Compared to 14 smaller cities, the MTA report finds Nashville is No. 10 in the hours of service provided and No. 11 in ridership per capita.
The report highlights the need for high capacity transit on several corridors: Charlotte Avenue, Dickerson Pike, Gallatin Pike, Lebanon Pike, Murfreesboro Road, Nolensville Pike, Broadway and West End Avenue. These shouldn't come as a surprised.
But the MTA report notes the need for cross-town transit that doesn't flow through downtown: "Through 2040, downtown Nashville will continue to be the focal point of the greatest number of trips," the report states. "But trips between other areas will become more important."
A similar report for the Regional Transportation Authority of Middle Tennessee is due in August. Following that step, MTA and RTA plan to outline potential strategies (think bus rapid transit or light rail in certain areas) to improve the transit system. They'll also be asking for public input along the way.